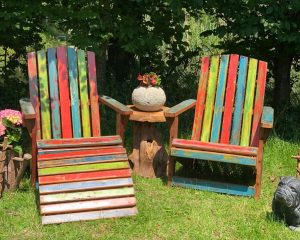 Some of the most striking furniture around!
Our furniture is made from reclaimed teak salvaged from old ox carts, fence posts, buildings and other disused farming implements. The overall effect is of stunningly striking, solid wood furniture.
This range is vast, encompassing ox cart wheel benches, swing benches, solid teak dining sets, teak sleeper dining sets, thrones, bars and reception desks and much more. Any item will be a fantastic feature in the home or garden.
The use of recycled teak in our furniture makes it particularly appropriate for use outdoors, although the rich patina in the teak is perfect for dining room furniture and will age beautifully.
Particular attention has been taken to keep the items past life present in it's new one, for example the wheel used for the back of the Wheel Bench, the fence posts used in the backs of the chairs. This history gives each item its own unique character.